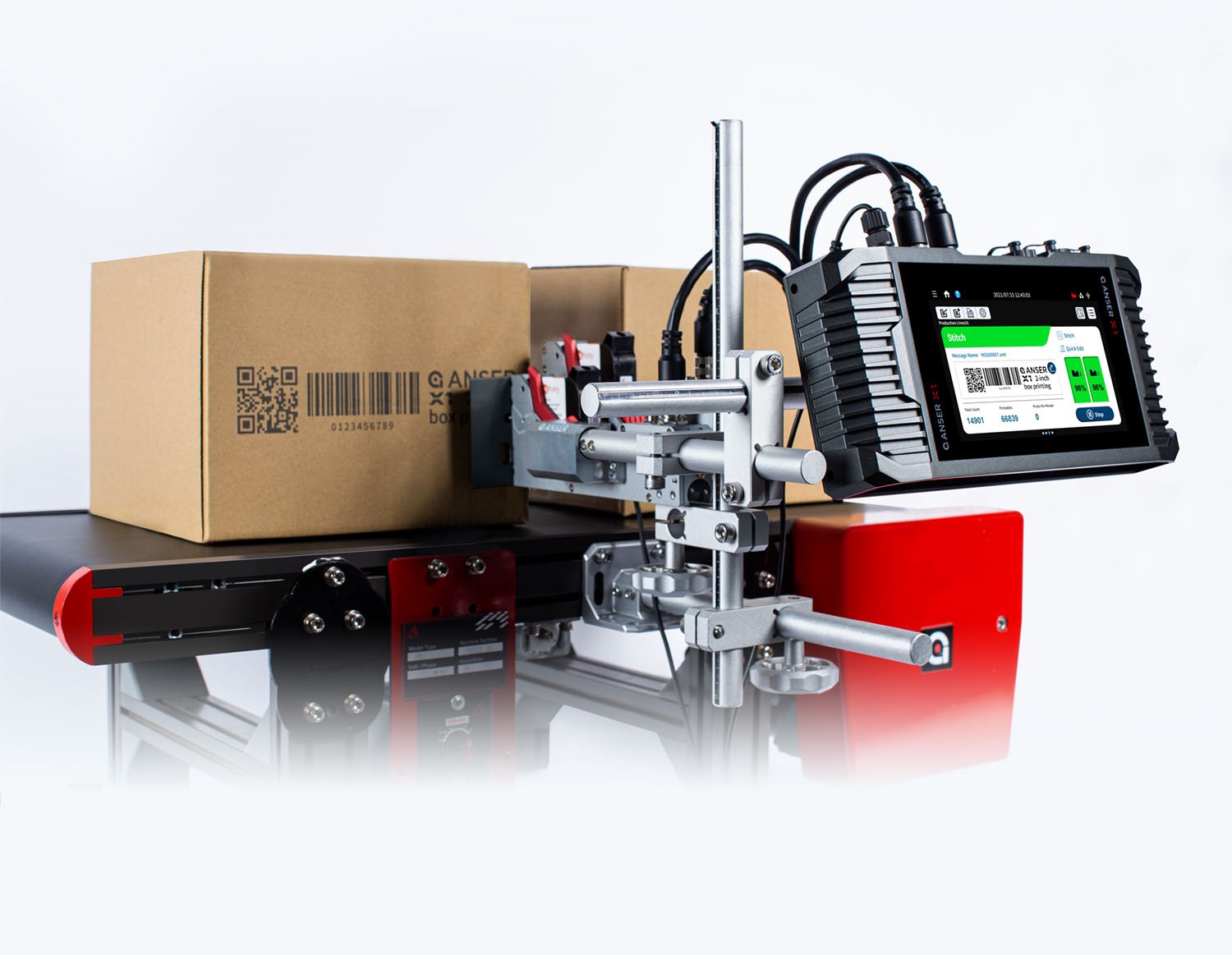 Anser X1 Thermal Inkjet Printer
The Aser X1 offers next-generation Coding Technology. It is designed to drive multiple thermal inkjet cartridges, giving businesses a complete solution for all of their coding requirements.
This state-of-the-art printer redefines expectations of an industrial printer by providing robust reliability even in the most crucial working environment. Equipped with best-in-class performances and features, to meet the most demanding production line integration requirement. It possesses the capacity to drive different TIJ printhead technologies with easy switching capability, which enables it to provide the end users with a great variety of ink portfolio to meet their substrate requirements.
Anser X1 Thermal Inkjet Printer Main Features
The X1 Printer is simple, yet powerful. A high-resolution inkjet printer with unparalleled flexibility and best-in-class performances.
Reliability and stability
Industrial-grade mechanical design, ensuring coding stability and reliability in both high & low-temperature working environments.
Unmatched Robustness
Robust capacitive touch screen with quick and accurate response, yet strong enough against accidental impacts and damages. Compatible with most medical and industrial gloves.
High Speed & High Resolution Coding
Print speed of 300m/min at 60 DPI*, meeting most high-speed production requirements. ( cartridge dependent )
Non-Stop Coding = Zero Downtime Cost
Parallel printhead design allows end users to replace cartridges without production intervention, achieving true zero downtime cost.
Anser U2 X1 Printer Technical Details
U2 Mobile S Printer Full Specifications
Maximum number of printhead:

 

2
Display:

 

7" Color LCD Capacitive Touchscreen (800×480 px) (Compatible with most medical & industrial gloves)
Printing Functions:

 

Static Data: Text, Log0
Dynamic Data:

 

String, Shift, Counter, Production Date, Expiration Date
Fonts & Size Standard:

 

Arial, Other Ture Type Fonts can be loaded
System Language:

 

(add input lang.) English, Spanish, German, French, Italian, Traditional Chinese, Simplified Chinese, Japanese, Korean, Russian, Portuguese, Turkish, Hungarian, Slovak, Czech, Swedish, Romanian, Serbian, Bulgarian, Polish
Dimensions & Weight:

 

291 x 142 x 52mm / 2.12 Kg
Operating Temp: 0~40 Celsius
Communication Protocols:

 

TCP IP/UDP, Modbus TCP, and ANSER U2 Net protocol
Power Input:

 

AC 100V~240V, 50/60Hz (90Watt)
I/O Ports:
– USB 2.0 connector x 2
– RS-485 & RS-232 connector x 1
– RJ-45 connector x 1
– Digital I/O connector (1 IN & 5 OUT pins)
– Encoder x 1
– Photocell x 1
Barcode Type:

 

EAN8, EAN13, EAN14, EAN128, UPCA, UPCE, CODE39, CODE128, ITF14 (SCC-14), NVE18 (SSCC-18), INTER25, CODABAR, P DF41 7DATAMATRIX, QRCOD E, GS 1 (DATAMATRIX, DATABAR EXP, DATABAR, QRCODE), D'MATRIX 8×32, DUN14, Aztec Code
Operating RH.:

 

0%~90%, Non-condensing
IP Rating:

 

IP66 housing
SPECIFICATION – PRINTEAD TYPE H
Printing Technology: High Resolution Thermal Ink Jet
Print Height:

 

Single Print Head: 12.7mm (0.5 inch) or 25.4mm (1.0 inch)
Printing Resolution:

 

600 x 600 DPI
Printing Speed:
30m/min @ 600 DPI
300m/min @ 60 DPI
Printing Distance:

 

6 mm
Operating Temp:

 

0~40 Celsius
Operating RH:

 

0% ~ 90%, Non-condensing
Dimensions & Weight:

 

82 x 30 x 210 mm / 0.46kg
Printhead Cables: 
Standard: 2M
Optional: 5M, 10M, 15M
Are you interested in any of the range of products we distribute? Fill out the short form below to get a free quote or request more information.
© 2023 Ozed Ventures Limited. All Rights Reserved. OZED is Nigeria Registered Co.