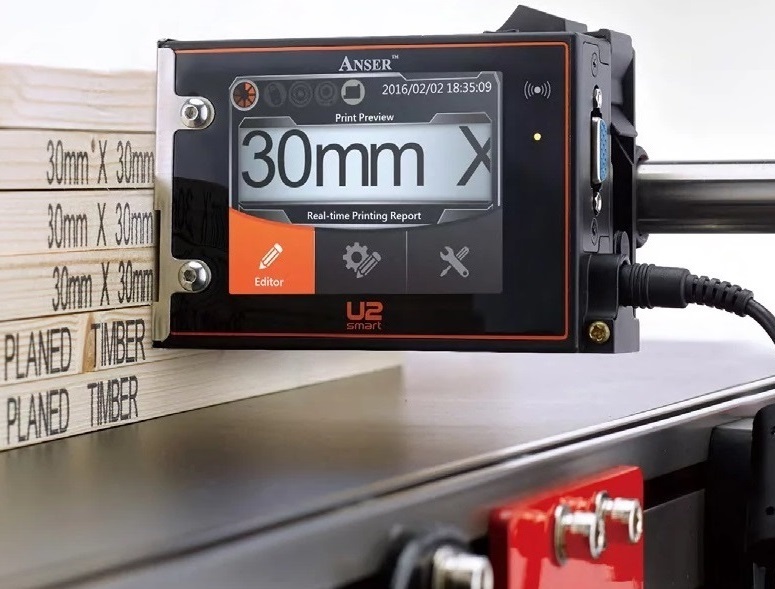 Ozed Ventures Limited is a major distributor and installer of a variety of Thermal Inkjet printing solutions. The Anser U2 Smart 1/2″ Thermal Inkjet Printer is your best bet if you looking for an innovative and cost-effective printer solution that doesn't sacrifice print quality or reliability.
The Anser U2 Smart Printer is an easy-to-use printer that offers the best lifetime value on the market, its highly compatible with porous and semi-porous materials such as cardboard packaging, wood, and corrugated boxes. It is a product that can provide you with high-definition coding capabilities at an affordable price.
Anser U2 Smart Printer Application
Anser U2 Smart Printer is a high-end inkjet printer specifically for the simple and low-volume production line. Its simple design allows for DIY installation without prio technical experience. This thermal inkjet technology offers businesses reliable high resolution coding without complicated maintenance and technical support and enables companies of all sizes to complete primary and secondary packaging applications for their products.
Its application includes food packaging, construction materials, miscellaneous consumer goods, and secondary packaging across industries.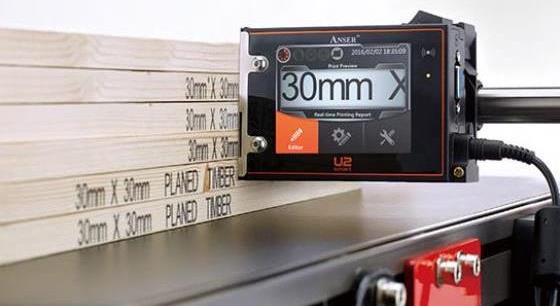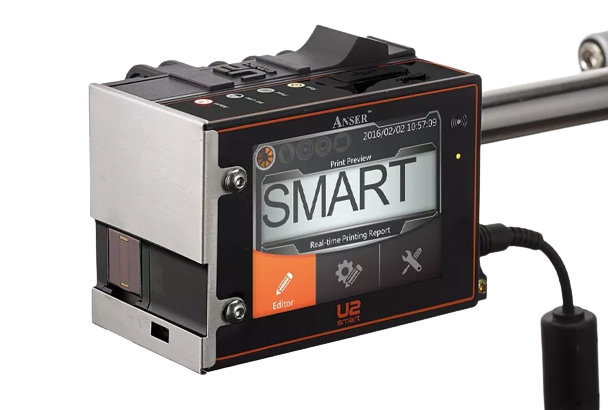 Anser U2 Smart Printer Features
The Anser U2 Smart Printer is lightweight and compact, easy to integrate into almost any printing line setup. This industial termal inkjet printer offers simple operation, either via the LCD screen or through its remote control keypad for seamless usage. Other key features includes:
High-resolution codes up to 400 x 300 DPI
Coding speeds up to 76.2 m/min (60.96 m/min at 300 DPI setting)
Compatibility with InkJet, Inc.'s diverse ink portfolio
A stock memory that can store up to 999 messages
Porous and semi-porous substrate compatibility (The materials the Anser U2 smart printer is compactible with include paper, cardboard, sponge, untreated woods, waxed surfaces, coated paper, plaster, and concrete)
Anser U2 Smart Printer Full Specifications
Anser U2 Smart Printer Technical Specifications 
Display
3.5" Color LCD with LED backlight
Input Device
Pocket-sized IR remote keypad
Print Engine
Hewlett-Packard Thermal Ink Jet technology
LED Indicators
Alarm, Ink low, Print, Run, Remote On/Off
Available Languages
English, Chinese (Traditional), Chinese (Simplified), Japanese, Russian, Korean, German, Portuguese, Spanish, French, Italian, Turkish, Hungarian, Slovak, Czech, Swedish, Romanian, Serbian Latin, Serbian Cyrillic, Bulgarian, Polish, Vietnam
Sensor
Internal photocell
Encoder
External
Mounting Orientation
Horizontal or downside
Max Printing Resolution
400(h) x 300(v) DPI (horizontal DPI varies from encoder setup, print quality is resolution and speed-dependent)
Printing Speed
76.2 m/min max speed, 60.96 m/min at 300 DPI setting
Max Printing Distance
Recommended 6mm from nozzle to surface
Message Height
Up to 25.4mm (1 inch), Selectable font size: 2.0mm, 2.8mm, 3.6mm, 5.4mm, 7.2mm, 9mm, 10mm, 11mm, 12.8mm, 16mm, 20mm, 22mm, 25.4mm
Print Capabilities
Alphanumeric, logos, date/time, shift code, counter, lot box code
Barcode Compatibility
Code-128, ITF-14(SCC-14), NVE(SSCC-18), EAN-128, PDF417, Data Matrix, QR Code, DUN-14, GS1 Datamatrix, GS1 DataBar, GS1 DataBar EXP, GS1 QR CODE, UPCA, UPCE, EAN-13, EAN-14, EAN-8, Codabar, Aztec Code, INTER25, CODEBAR, Code-39
Message Storage Capacity
Store up to 999 messages
Input/Output
RS-485, RS-232, USB, Wi-Fi & Ethernet
Electrical Requirements
AC 100V~240V, 50/60Hz
Operating Temperature
5°C – 40°C (41°F – 104°F)
Dimensions (L/W/H)
114 (L) x 76 (W) x 60 (H) (mm)
Weight
0.49kg (1.08 lb.) – excluding cartridge and bracket
Standard Accessories
Bracket set, power adapter, USB disk, remote control
Optional Accessories
– Encoder (provides high print quality on unstable conveyor) – Photocell (provides reliable and precise sensing parameters) – Alarm kit (alerts users of any operating incidents)
Are you interested in any of the range of products we distribute? Fill out the short form below to get a free quote or request more information.
© 2023 Ozed Ventures Limited. All Rights Reserved. OZED is Nigeria Registered Co.